Lavender growers of Deerhaven farm
LISTEN TO THE PODCAST NOW
Deerhaven Lavender
Interview with the Jessen family of Deerhaven Lavender Farm.
Download free lavender recipes for cookies and sugar scrubs.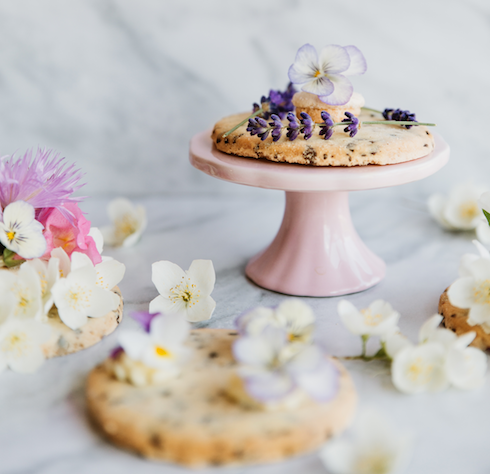 Deerhaven lavender is a family run operation that grows lavender, distills it into essential oils and makes soaps, salves and other products. I visited them on their farm in the mountains above Santa Cruz, California.
I wanted to know: does lavender really work for inducing sleep? What else can you use lavender for? How pure are most essential oils? What should you look for in lavender oil? What does it take to grow lavender? How much land do you need? What kind of climate? How difficult is it? What were their favorite parts about it? And many other questions about choosing this life outside amongst the fragrant plants.
Mary and David Jessen and their daughter Natalia met me for several hours and gave me a tour. They also made a delicious batch of shortbread made with lavender sugar. You can get their recipe for free, as well as several others by clicking the link above.
We talked about dealing with what they can't control (nature, fog, ruined crops) and how this life outside cultivating lavender shaped their outlook on life. The Jessens talked about various aspects of essential oils and how they store and distill them to make their yummy soaps and fragrance oils. Speaking of fragrance, on the podcast you'll learn about the differences between essential oils and fragrance oils. You'll be surprised. You'll also be surprised when you see and hear how they store them. Here's a sneak peek.
They were gracious to let me poke my nose around their workroom and I was surprised when I saw this! But apparently, they need to store the essential oils in glass bottles—even if it arrives in the mail in plastic or metal. (They distill their own lavender oil, other oils they use for their recipes and mixtures they buy). So, a friend has supplied these large, empty bottles of scotch for their storage needs! You can hear more about this on the podcast.
Here we see Mary's handmade soaps drying or, "curing." Mary has been making soaps and salves for decades and has honed her skills into an artistic alchemy of heavenly fragrances.
After the soaps are ready, they are wrapped and labeled. Here they are in the workshop. Of course, if you go to one of their events locally, you'll see it all looking more like below.
These four below were my favorites. As in, "OH MY WORD these are Ah-MAZ-ing!" That Cedar & Spice was incredible as well as the Lavender.
This family really loves their natural surroundings, so much so that they let the deer roam their property (hence the name) and even saved wasp nests and hung them in their workshop. This delighted me and is something my grandmother would have done (she made matchstick holders out of wasp nest cavities).
After giving me a tour of their workshop, and showing me how they distill their oils and educating me about all things related to soaps, salves, oils and lavender, we headed back to the house for a discussion about their daily lives. We talked about what it's like to grow lavender for a living and the wonderful hidden blessings that can be found in the outside life. They were so interesting and easy to talk with, I could have jabbered on with my questions all day!
Then they put together this ridiculously lavish basket of goodies for me. It's so lovely and perfect, that I can't quite bring myself to take it apart!
About once a summer, Deerhaven Lavender has a Upick day. Here is when you can get the first fruits of the crop and pick perfect stems for your home. You can also buy lovely gift boxes like this one with oil, soap, sachet and floral water (smells great on sheets and laundry).
Even though U-pick day is over, you can still stop by and enjoy the lavender when they have special events. Like this December 1st. They will be part of the Artisan Gift Sale in Santa Cruz at the Veterans Hall. And December 16th they are hosting a Holiday Open House at their farm in Bonny Doon. I suggest that this Christmas, or for any gifting occasion, you head to these events, or their website and order yourself and loved ones some of their organically raised, handcrafted items made with their lavender oils.
Don't forget to download your free lavender recipes at the top of this post!